2016 Memberships are due October 1 Download your 2016 form HERE.
Picture of the Month - Autumn Colors "Carol Nudell and Rosie on the Grand Mesa"
- Next Month's Theme: "I'm Grateful for....." Get your pictures in early!

- Updated Schedules for chapter activities
- Check out the Monthly Photos for a lot of fun Chapter activities
- Be sure to check out Great Western's Stallion page to chose the sire of your next foal!
- Don't forget to check our Classified Ads if you are shopping for a new horse, saddle, or other tack. New entries all the time!
Great Western is putting on a PFHA point AND All-Breed Fun show! The High Desert Classic and All Breed Fun Show will be held October 16-18 at the Deseret Peak Complex in Tooele, Utah!
*********Forms for the High Desert Classic Available here ***************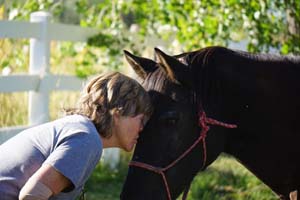 Message from the President
This is probably the hardest letter I will ever write. This month I had to say. "Good-bye" to the greatest Paso Fino ever, Zarzamora del Reino (Zar). She broke her leg and had to be put down. I was so blessed to share 15 incredible years of my life with this beautiful and whole-heart horse. From showing to trail riding, she was a great ambassador for the Paso Fino breed. She has graced these pages dozens of times.
I want to remind everyone that tomorrow is never guaranteed. To love and enjoy every moment you can with your incredible horses. They share their very soul with us and leave deep hoof marks on your heart when they are gone.
*********
I hope to see you all at the High Desert Classic PFHA and Fun Show in Tooele, UT, Oct 16-18. And a reminder to ALL MEMBERS - we will have a GWPFHA Membership meeting on Saturday the 17th (after the show) at 5:00 p.m. It is an important meeting; we will be electing new officers for 2016-17!! Following that, we will have the High Point Awards Banquet for GWPFHA, all invited.
Carol Nudell
GWPFHA President