2016 Memberships are due October 1 Download your 2016 form HERE.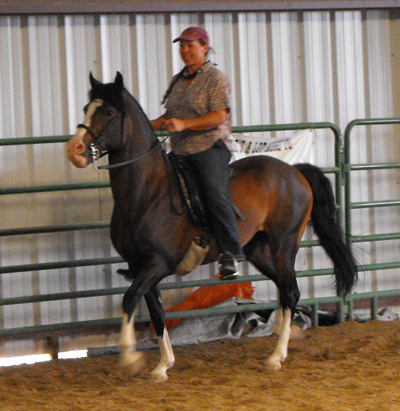 Picture of the Month - "Stallions" - Jugueton Fuego Salago - Jana Ellis
- Enter our photo contest! March issue is for Mares - show us your beautiful girls!
- Introducing the 2016 Board of Directors on the Contact Us page!

- Read Glenn Davis's Horse Soccer article on the Articles page
- Updated Schedules for chapter activities
- Check out the Monthly Photos for a lot of fun Chapter activities
- Be sure to check out Great Western's Stallion page to chose the sire of your next foal!
- Don't forget to check our Classified Ads if you are shopping for a new horse, saddle, or other tack. New entries all the time!
Message from the President
Happy February!
Here we are in the depth of winter. Most of us are dealing with the cold and snow with little option to be able to ride. Now is a great time to take a look at your tack. Make sure it is all serviceable and ready for the upcoming riding season. Got a tear on your saddle? Get it fixed. Girth worn? Considering replacing it. Your leather gear needs some TLC? Get out that leather clearing or saddle soap and give the leather the cleaning and conditioning it needs. I know that is something I need to do. Our saddles are a big investment so a little time spent taking care of them is time well spent. If you are lucky enough to have weather favorable for riding, I hope you are having fun.
Stay warm, be careful in the snow and ice and don't forget to check out your gear!
-Lisabeth Wachutka and LeVante el Amador
GWPFHA President